Why use a Piaggio?
When you set your sights on a Piaggio scooter, you choose freedom and fun in motion. With Piaggio's tradition of combining safety, reliability, and practicality with an eye-catching elegantly crafted design, your trip from dorm to campus suddenly becomes an adventure, not routine. An ordinary commute to the office becomes extraordinary. And the miles of asphalt that stand between you and your next vacation destination suddenly just aren't long enough. Oh, and did we mention you can park closer to your classroom or office building?
Best of all, while all your Piaggio journeys will be rich with the joy of discovery, you'll be able to pocket significant savings because you're also choosing one of the best made best value scooters available today. Blending stylish Italian design with expert craftsmanship and sophisticated technology, every Piaggio – from the ultra-fuel efficient 50cc or 150cc Fly to the award-winning line of innovative three-wheel MP3 scooters, is a smart addition to your personal transportation fleet. And, your investment in a Piaggio scooter also helps the environment by reducing emissions and congestion. Easy to ride, thanks to the twist-and-go automatic transmission, easy to own thanks to attractive prices and easy to love – for more reasons than you'll be able to recount.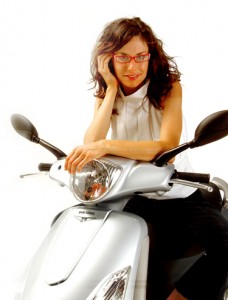 Where to use your Piaggio?
Push the ignition button on a Piaggio, and your only limitation is time. Twist the throttle and traffic disappears behind. With an average fuel economy of 70 mpg and a range of models tailored to around-town-fun, commuting or distance touring, your choice of destination can be minutes or months away. It just depends on how long you care to escape the everyday.
Of course not everyone has the freedom to leisurely explore America on two or three wheels (See the
No Age Limit Lincoln Highway Cross Country Tour), but your Piaggio MP3 500 or BV Tourer 250 maxi scooters will be equally satisfying companions even if you're just headed out for a memorable weekend ride or your daily office commute. For fast jaunts to visit friends or running errands, choose one of Piaggio's small or mid-size scooters and get there with a maximum of fun. Whatever your preference, every Piaggio comes standard with plenty of cargo space for storing travel essentials, such as rain gear or your helmet. And if Mother Nature is really uncooperative, go ahead and give your Piaggio some time off. But be beware: once you've experienced life on a Piaggio, ordinary transportation will leave you longing to twist-and-go.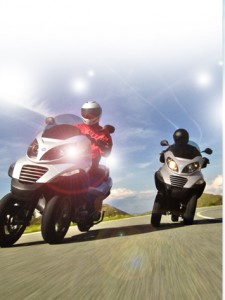 Learning to Ride Safely
Whether you're just starting out on your first Piaggio or if you've been riding for years, your riding knowledge and skills are extremely important. We recommend a Motorcycle Safety Foundation (MSF) RiderCourse to improve your knowledge and enjoyment of riding. In most states, the MSF RiderCourse qualifies graduates for lower insurance premiums. To sign up for a Motorcycle Safety Foundation RiderCourse or to request information, please call 1-800-446-9227 or visit their website at www.msf-usa.org. Ask if you can take the course on a Vespa or Piaggio motorscooter.
The MSF also offers a Scooter School curriculum specializing in scooter training. The Scooter School is being rolled out to various sites around the country. Visit www.msf-usa.org for more information.
And an important part of rider education is learning to ride smart. Never ride under the influence of drugs or alcohol. Always operate your vehicle at a safe and legal speed. Always ride cautiously within your abilities. Be alert to your surroundings and ride defensively. Do not ride off road and respect the rights of others. Review your owner's manual thoroughly before riding your new vehicle and examine your vehicle before each ride. Vespa and Piaggio motor vehicles are recommended for riders 16 years of age and older.
Service
With over 16 million units sold worldwide since 1946, Piaggio has developed quite a reputation for durability and reliability. It's no surprise that we also provide the best support when it comes time to service and maintain your Vespa throughout its lifetime. Our authorized dealers are trained scooter specialists – they are there for you when it comes time for service, maintenance, or if you simply want to customize your Piaggio with our broad selection of genuine Piaggio accessories.
With the proper care and maintenance at regular intervals, don't be surprised several decades later how well your Piaggio runs. And don't be surprised if your Piaggio is even more loved and admired as the years go by.